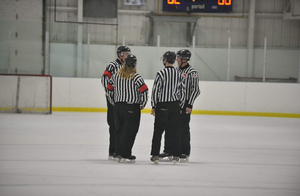 From Between the Pipes to Between the Lines
By: Alex Curran
Like most of us, my hockey obsession started very young and I came to love the game very quickly.
Though I had a strong love for the game, I couldn't start playing until my second year of atom due to family financial issues.
From day one, I always knew I wanted to be a goalie (even though my parents were always trying to convince me otherwise). It was in my blood. In fact, my very first year playing, we had two goalies and our coach insisted on doing full game rotations. While one was playing, they wanted the other goalie to play as a player for those games.
Reluctantly I gave in and agreed.
So, we got all the gear together and the next game I suited up as a player. Well to say the least...that didn't last long, a total of one shift, two minutes and 37 seconds to be exact. 
I swore I'd never "play out" ever again and that I would rather sit on the bench dressed as a backup goalie. I thought I'd never put on a pair of player skates again.
That is until something caught my attention just as much as playing goalie did.
Wearing the black and white striped jersey.
How did that new obsession came about?
I have no clue, but I knew I had to become a referee. At 12 years old I was still too young to register, and had to wait two more seasons. So, it started with hanging out in the referee room, to timekeeping the next closest thing I could get at that age.
Timekeeping helped me so much because I got to learn by watching senior officials in our association do games.
However, my first opportunity to actually officiate came about next season, at age 13, when a friend asked me to come referee some community hockey.
To this point, I hadn't put on a pair of player skates ever since that one game in second year atom. I didn't care how goofy I looked I was going to wear my goalie skates and I did, for almost an entire season.
I know from that season I only wanted to go onward and upwards. Now I was going to Saint John Seadog (QMJHL) games and found myself not only watching the goalies anymore - but the referees.
I still knew that I needed to learn how to skate in player skates.
Some people will tell you that the transition from goalie skates to player skates is easy and that you don't even feel a difference, and some will tell you it almost learning how to skate again. Sadly, I fell into that category.
So, now 14 and old enough to take the referee course I searched for a pair of player skates and got a pair from a family member. The first time I skated in player skates was awful, my "c" cuts and "t" pushes weren't going to cut it. I found everything different. The skate boot, the skate blade, to just skating in general.
I don't think I ever did a crossover as goalie. After I realized how much different this was, I knew I had to practice. So, after school I would walk across the parking lot to our local rink during public skating and practiced.
It didn't take long to get a hang of it but I did need to learn typical player skating, so the circle drill was my friend in all this to learn crossovers. After a few weeks I felt ready.
The next September I got all registered for the referee clinic and when the time came, I was so nervous.
I made it through with not falling and to me that was the start of a lot of my many firsts.
My first game, my first big fall, my first coach kicked out, my first high school game, my first Jr. game, there's lots!
Plus, all the people you meet along the way. One thing I would like more goalies to do is become referees.
Goalies see the game in a totally different way than players do and it helps so much with refereeing.
You might not be the best skater ever, because I'm not but if you go out and cherish the journey and referee every game like you would want the game to be called, and you never know where you could end up. My main goal is to work hard and where ever the game takes me I'll let it.
Going from between the pipes to between the lines.
---
3 comments