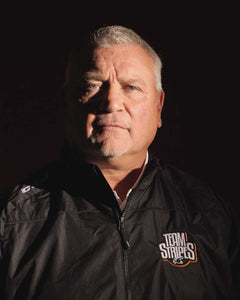 Partnership with Don Koharski
July 25th, 2018 – Today, Don Koharski and Team Stripes announced they are partnering-up to deliver premium online training tools for hockey officials. The partnership will see Koharski fulfill the role of Program Director, in which he will oversee the development and creation of these tools, among which will be the creation of his own in-depth educational course.
Don brings over 40 years of experience in officiating, including having worked 32 seasons as an NHL official and presently entering his 10th season as an officiating manager. Don has officiated over 2100 NHL games, including 11 trips to the Stanley Cup Finals. He runs a series of popular camps for officials, most recently launching a camp in Nashville, Tennessee. In his online educational course, Don will share much of the insight he has learned over the years.
Team Stripes is a technology start-up that is committed to bringing modern training tools to all hockey officials. It currently offers podcasts, videos, and other resources to officials. Led by AHL linesman Brandon Bourgeois, Brandon brings his experience and background in technology entrepreneurship.
Brandon Bourgeois states "It is a pleasure to announce this partnership with Don Koharski today. Team Stripes is committed to training and developing officials, and this partnership with Don was a no-brainer. His years of experience on the ice as an NHL referee and in training officials will make him a great asset to this partnership".
This partnership will be ground-breaking for officials. Working together, we will be able to utilize modern technology that will deliver the best training and guidance to officials across the globe. These tools will be extremely accessible, so that officials, from small towns around the world will also be able to have top-level instruction, and not be limited by location.  
Don Koharski states "We have been running camps and training programs for hockey officials for over 25 years. This partnership with Team Stripes will allow us to bring that experience in officiating instruction and allow us to deliver top training to officials across the world using modern online training tools.  Presently, the turnover of officials is increasing on an annual basis, and our goal is to change that."
The first training tool, the educational course, will be released in early October, and will feature several top instructors.
You can find out more about the partnership at www.teamstripes.ca
Media Contacts
Brandon Bourgeois
506.850.7981
goteamstripes@gmail.com
---